The Beginning, the Middle and To Be Continued!
Okay, so I started out wanting to be a garbage man but then the Beatles came along and changed everything.
I was into music as far back as I can remember. Even before the Beatles the twangy telecaster sounds on Johnny Cash's "I Walk The Line" and "Ring Of Fire" caught my ear as early as 3 or 4 years old. By age 8 my older brother had started showing me some things on the guitar and I learned to play a few Bob Dylan songs. By the time I got out of high school I was playing music full time. I played in a variety of cover bands over the next few years. Some of the bands that influenced my style from that time period were Aerosmith, ZZ Top, Foghat, The Allman Brothers, Lynyrd Skynyrd, Robin Trower and of course The Rolling Stones.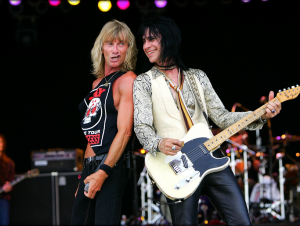 I was on my way home from a gig one night and stopped into 7-11 for a late night snack when Ronnie Younkins approached me and asked if I'd be interested in starting an original band with him and Donnie Purnell. Before long The Shooze were born in my parents' basement. A year and a half later we had the line up that would become Kix. A year after that (1981) we were signed to Atlantic Records and officially became Kix. Within weeks after recording our first record, Kix, we were off and running touring non-stop until it was time to record our follow up album, Cool Kids in 1983. The pattern was set and that's pretty much how we did it as far as touring and recording.
The first record was our record and the record company let us do what we wanted with that one. Cool Kids was a different story. They figured they had us at that point, and since our first record didn't really sell all that well, we were kind of railroaded into making a more commercial album that included covering outside songs. We as a band were disappointed with that record and as it turned out, record sales weren't that much better anyway. With Midnite Dynamite (1985), I feel we were back on track. Record sales still weren't what we had expected though they were improving with each album and I attribute that to the relentless touring. By this time, the end of 1987, we lost manager number three and wound up with Mark Puma (Twisted Sister). Mark actually had a plan going in to record album number 4. I can't recall the specifics of that plan but it worked. Things were finally falling into place with the release of Blow My Fuse (1988).
1988 was the year of our first tour bus (before that it was a Ford Econoline van) and a trip to England. In the beginning of 1989 we landed our first full arena tour with Ratt. Before that we would do an occasional opening slot with maybe a few dates strung together. We had done a few club tours opening for national acts prior to that, but this was our first real arena tour. We went from playing an hour and a half set each night in a sweaty night club, finishing at 2 a.m. and then driving all night, to playing a half hour set starting at 8 p.m., being done by 8:30 p.m., partying and hanging out backstage while the headliner was playing, and then jumping on the tour bus to ride to the next town. It was a piece of cake!
At the end of that summer while on the Tesla/ Great White tour, we were informed that the record was done — in other words, the record company was done spending money on it. Great White's manager Alan Niven kept asking our manager, "Why wasn't 'Don't Close Your Eyes' released as a single?" And after our manager explained to him about the record being "done," Alan took it upon himself to go to Atlantic Records and tell them they'd be crazy not to release that song. Atlantic Records actually listened to him, (he was also managing Guns and Roses at the time) and released "Don't Close Your Eyes" as a single. The record kicked into overdrive at that point and so did the touring. We went to Japan for the first time. When we arrived at the airport, it felt like we were the Beatles. There was a crowd of Japanese fans with signs and banners. They were also waiting at our hotel when we got there. I've never signed so many autographs, taken so many pictures and received so many gifts in my life! I love Japan! Needless to say that record went gold and then platinum 10 years later.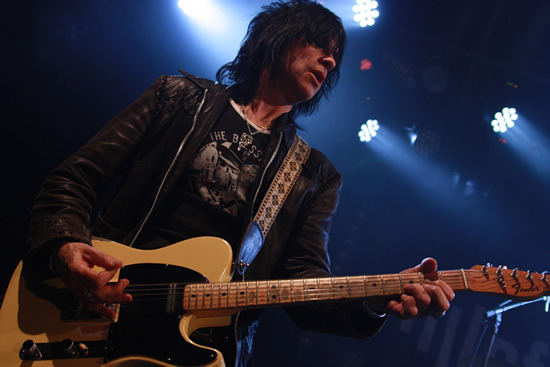 This is when things started to get a little strained within the band. I guess it was the pressure of having to sustain that success. Donnie was becoming more and more bitter towards the record company because the bookkeeping seemed to favor them. We owed Atlantic about two million dollars by this point and had not seen a penny in royalties. This is just my opinion, but I guess Donnie felt he had to take matters into his own hands, though he had already proven himself as a control freak by this point. He stopped having confidence in anyone, including our manager — who I feel was responsible for Blow My Fuse getting as far as it did — and instead of letting people do what they're good at doing, he would do it for them and then resent the fact that he had to do everything. This extended to the band as well. We managed to squeeze out another great record, Hot Wire (1991), which was released on East West Records but things were starting to fall apart, or at least that's the way I saw it. This is when I started looking for a way out. It wasn't fun anymore and I could see the ship was slowly sinking.
In the fall of 1992 I began writing songs with Eric Stacy of Faster Pussycat. With all those frequent flyer miles I had saved up flying to England and Japan twice, I began flying to L.A. once a month to assemble a band. In February 1993 I flew out to L.A. and recorded a 4-song demo with my new band, The Rhythm Slaves, which also included Pat Muzingo (Junkyard) on drums in addition to Eric Stacy on bass. When I returned to Maryland from L.A. with my demo, I informed Kix that I was leaving. I officially moved to L.A. in March of 1993 about 2 weeks before the release of Kix Live. The Rhythm Slaves played around L.A. over the next year or so before having to let Eric go for personal reasons. We then changed our name to Catfish and recorded 4 or 5 more songs, along with a music video.
In the summer of 1994, I was invited back to record another album with Kix, Show Business, strictly as a hired musician. Afterwards I played 3 shows with them and then returned to L.A. While I was in Maryland, Raile the singer for Catfish decided to leave the band. I think maybe he thought I was going to rejoin Kix or something. So that was the end of Catfish. Between 1994 and 1998 I played in a variety of bands, Griffin's Creed, Trouble Walkin' with Bryson Jones, Deep Six Holiday with Georg and Reeve from Rhino Bucket, The Vagabonds with Joe Leste and Kyle Kyle and The Purple Gang (lowdown dirty blues), among other projects.
The end of 1997 and beginning on 1998 was not a good time for me. I was at my bottom mentally, physically and spiritually. In March of 1998 I was arrested for drug possession. I went to jail then rehab then to a sober living. That was a turning point in my life. It was actually the best thing that ever happened to me. Since then I got together with Georg and Reeve to be included in the rebirth of Rhino Bucket. We recorded a new CD. We've done numerous movie and TV soundtracks not to mention our killer live shows. I hooked up with Bryson Jones again to form The Snakehandlers, a rockin' country band with blazing guitars. The Snakehandlers have done some recording and were played on Indie 103.1 FM radio. We also appeared on the Discovery Channel's Monster Garage. I'm still playing with The Purple Gang as well.
In 2003 I began talking to Steve Whiteman about the possibility of a Kix reunion. During the Christmas holidays of that year four-fifths of Kix performed together for the first time in 10 years. It was such a success and so much fun that we decided to make it a regular thing. Unfortunately because of some personal differences Donnie is not involved. We did 5 more dates in September 2004 that were equally as successful and 2 more dates in December of that same year. Doing these shows has caused me to miss those old days when this was my life. Which brings us to the present… welcome to my website! I'm hoping this website will stimulate my music career and help me to become full time musician once again.
Update 2012 – Hey everybody, since my last entry at the end of 2004 a lot has happened! I've continued to play shows with Kix over the years. We eventually signed with a booking agency Bigg Time Entertainment which broadened our horizons and took us from the local Baltimore – DC area to nationwide once again.
Rhino Bucket has since signed with Acetate Records, recorded and released three new records and two compilations. We have also had several successful European tours booked and signed with Rik Parks @ Kashmire Entertainment Group in the U.S.
I was finally able to let go of my day job of the last 12 years at the pet clinic and once again fulfill my dream as a full time musician!